FINISHING MILLS
Time-tested technology provides three-dimensional Vibro-Energy motion for all SWECO Finishing Mills. This motion subjects parts and media to a consistent high frequency tilting movement as they travel in a helical/orbital path around the chamber. The resulting compressive scrubbing action cleans and also removes burrs, round sharp corners, and smooths out surface impressions. Because vertical/horizontal amplitudes and the rate of vibration are completely adjustable, your finishing requirements can be handled quickly and efficiently.
Additional Information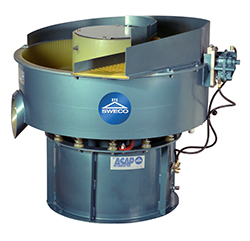 FMD-7LR FINISHING MILL
Batch Mills SWECO Batch Finishing Mills are ideally suited for use with external separating systems, manual parts unloading and for processes that have no media and the entire load can be easily discharged out the bottom door.
Long Radius Mills SWECO Long Radius Finishing Mills provide a convenient means for separating parts from media. The DLR series provides both batch automatic and continuous finishing. Internal parts and media separation mills utilize a swing blade and a fixed separation screen mounted within the unit. The long-radius toroidal chamber design has excellent discharge characteristics.
Spiral Mills SWECO Spiral Finishing Mills or SLR series mills make available a long-radius spiral finishing chamber featuring fully-automatic parts/media separation utilizing an air-operated discharge gate and a fixed separating screen. Even unusual shapes and sizes discharge easily. These units are suitable for a wide range of finishing applications (including ball burnishing and media finishing) both batch and continuous. One of the most essential features on these mills is the long retention time of parts for single pass applications.
Removable Center Column Mills The SWECO Removable Center Column Finishing Mill offers all the advantages of SWECO's unique Vibro-Energy finishing plus design features for easier operation and more efficiency. The chamber, which incorporates a removable center column, allows you to run larger than normal parts in the mill. Adjustments in finishing action are easily made by varying lead angle and motor weight settings. No tools are required for such adjustments. Sound levels have been reduced by the use of special materials and new fabrication techniques.
The complete spectrum of finishing from rough to delicate can be quickly and efficiently handled by this batch unit. With the proper media it will perform deburring, flash removal, edge-breaking, metal clean-up, rough surface work or preplate finishing- even radiusing or precision surface reduction. Available with 1, 3, 10, 14 and 23 cubic feet bowls.