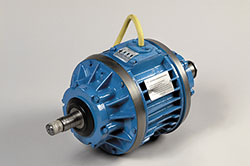 Motors
Guaranteed Repairs - We warranty our repair work for six full months, with an optional 12-month extended warranty.
Free Inspection - We'll inspect your motion generator, tell you what's wrong and provide a firm repair quote. Then you choose whether you want it repaired or replaced with a rebuilt or new model.
Quick Response - Our fast service minimizes downtime.
Free Breakdown Analysis - We include analysis of why your motion generator failed and tell you how to avoid future failures.
Latest Field-Tested Improvements - We bring your motion generator up to current specs and recommend accessories or modifications to increase service life.
ASAP Authorized Parts - We use only Authentic SWECO Aftermarket Parts for trouble-free performance.
Free Installation Advice - The latest Operations, Maintenance and Specifications manual and an instruction sheet are included to ensure proper reinstallation.
The Industry's Only Guaranteed OEM Rebuilds - Satisfaction is assured when your SWECO motion generator is remanufactured by the originators. SWECO quality rebuilts are warranted for 6 months, 12-month extended warranty optional.
Clean, Modern Repair Facilities - Repairs are made by factory-trained technicians in clean, state-of-the-art facilities -- ensuring that your motion generator is repaired to optimum performance.
Modifications For Severe Or Unusual Environments - When analysis indicates failure was caused by unusual conditions, we offer optional modifications to extend the operating life of your repaired motion generator.

Additional Information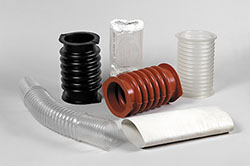 Rubber Goods
To accommodate your different needs, SWECO offers flexible spout connectors to suit a wide variety of applications and services. SWECO connectors are available in durable chemical and abrasion resistant elastomers such as black and white neoprene, silicone, clear polyurethane, PTFE, EPDM, white gum rubber, wire reinforced materials and fabric reinforced materials. Many materials are FDA approved for contact with food products.
GASKETS
To accommodate your different applications, SWECO offers screen gaskets in several profiles and in every diameter. SWECO gaskets are available in a variety of materials including fluoroelastomer, silicone, Thermoplastic Elastomer (TPE), neoprene, nitrile, hycar and EPDM. Rubber Gaskets for screens screeners sifters separatorsWhatever your application calls for, SWECO has a gasket to fit your needs. Many materials are FDA approved for contact with food products.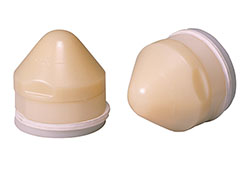 No-Tools Accessories
SWECO's "No-Tools" Force Wheel allow you to adjust the amplitude and screening pattern of your separator without the use of tools. The patented all metal weight adjustment mechanism can be used at up to 400 degrees Fahrenheit. Force Wheels are available for 24" to 72" separators.
PROGLIDE WEIGHT SYSTEM
The new HX™ Series Round Separator features the ProGlide™, a new top and bottom "no-tools" weight system, which presents fine proportional motion adjustment, enabling the user to move a single weight set radially to dial in on the optimal horizontal and vertical amplitude and force to improve efficiency and throughput.
CENTER-TIE-DOWN
The "No-Tools" Center Tie Down allows you to change a screen in a fraction of the time and gives you the ability to tension the screen from the top. They are suited to 220 degrees Fahrenheit and are constructed of Food Grade Nylon.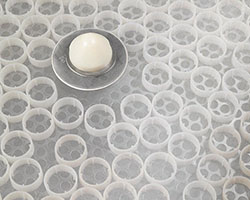 Self-Cleaning Kits
SWECO's Self Cleaning Kits aid in screen cleaning for increased screening efficiency. By reducing the amount of near-size particles lodged in the openings of the wire mesh (blinding), the Self Cleaning Kit improves dry sizing and liquid/solid separation. SWECO offers several options with Self Cleaning Kits, including sliders, ball trays and power wipers.
For a quieter self cleaning kit, check out the Quiet Clean.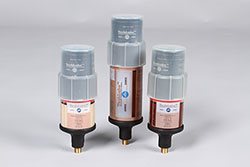 TechLube™ Automatic Greaser
Eliminate manual regreasing with the SWECO TechLube™, an automatic grease relubricator. The TechLube is an economic solution to attaining proper grease lubrication.
Made to adapt directly to existing SWECO Motion Generators, TechLube provides the right grease at the right time in just the right amount; promoting ease and consistency of maintenance as well as longer bearing life. Pre-engineered for just the right settings for your SWECO motor and custom packed with SWECO premium grease, TechLube is the smart choice for your Motion Generator.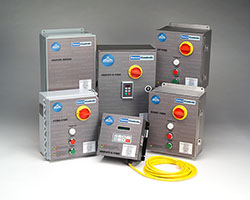 Electrical Controls
SWECO offers a variety of electrical controls with advanced safety features that make our products safer for our customers. Most SWECO controls have terminal blocks that provide safe and fast electrical connections. Additionally, most of our controls have flush start buttons, protruding stop buttons, power lights, and lockable disconnects. All SWECO controls provide environmental protection for electrical components and are constructed of NEMA 4X fiberglass, NEMA 4X stainless or painted steel, NEMA 4 painted steel or NEMA 12 painted steel.
In addition to the standard electrical controls we manufacture, SWECO can custom design electrical controls to meet your specific power requirements if within acceptable electrical standards.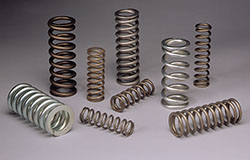 Warranty & Service
As a manufacturer of Vibratory Separation, Grinding and Finishing Equipment, SWECO warrants its products for a period of one year from the date of original shipment. SWECO assures the customer that the equipment will be free from defects in material and workmanship when installed, operated and maintained in accordance with SWECO's written procedures.
SERVICE
SWECO has a well established, knowledgeable sales representative force which extends around the world to provide its customers with the best and most rapid service available today. Every SWECO representative brings, on average, more than 20 years of problem-solving experience to the process industry. This assures the customer that their problems will be solved accurately and promptly by an experienced technician. SWECO also provides its customers with knowledgeable internal sales and engineering groups to help serve your needs further.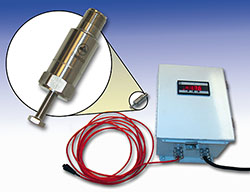 Instrumentation - Vibration Sensor
The SWECO Vibration Sensor is available to make certain that your separator is producing the appropriate vibratory motion. Stop unexpected – and undetected – separator shutdowns and prevent costly reprocessing. SWECO's Vibration Sensor constantly monitors the motion of your SWECO Separator and triggers an alarm if it stops functioning due to motion generator failure. In some cases, it can alert you of feed rate upsets, erratic product discharge, broken springs or loose anchor bolts and clamp bands. Add the Vibration Sensor's Display Unit for local digital readout of separator G-force. Operators can program two alarm set points, each with a relay contact output.