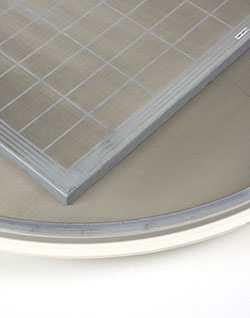 Fusion & Fusion Plus Screens
Fusion Screens are a revolutionary screen developed from a new technology that "fuses" the screen mesh to the tension ring. Fusion Screens have been designed to eliminate the use of adhesive, epoxy or silicone in screen manufacturing resulting in a unitary construction that minimizes the potential for contamination. Added benefits include precise repeatable tensioning and engineered uniform integral strain relief created from the complex robotic manufacturing process.
FDA APPROVED COMPONENTS
The Fusion Screen is comprised of the gasket, strain relief, and screen frame as one molded part. Fusion Screens are available in standard Fusion and Fusion Plus construction. Fusion Plus has FDA approved components for use in sanitary applications and higher temperature limits.
Additional Information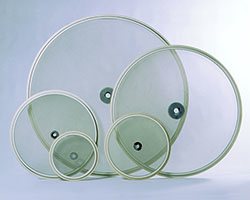 Supertaut Plus Screens
Patented Supertaut Plus Screens are a breakthrough in screen technology. With their improved design and our commitment to service, we can handle your most challenging screening requirements.
FDA APPROVED CHEMISTRY & COMPONENTS
The adhesive developed by SWECO engineers is the key to this breakthrough screen. This pure white adherent combines FDA approved chemistry, with the durability to withstand caustic and steam cleaning.
In addition to retaining every quality and performance advantage of the original Supertaut, this screen can withstand severe environments, and is made from FDA approved components for food contact.
THE BEST SCREEN ON THE MARKET
Supertaut Plus screens are available to fit nearly all circular separators. So, regardless of what type unit you have, you can equip it with the best screen on the market.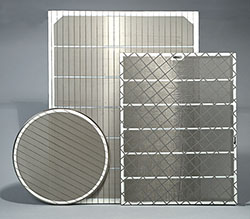 Magnum Screens
SWECO Magnum screens are the most revolutionary advancement in separator screen technology in the last decade. Designed for increased strength, the patented Magnum screen has shown significantly improved screen life over traditional designs. Advanced mesh fusion divides the screen into discrete zones, preventing propagation of most tears. The mesh fusion also enhances flow rates by stiffening the screen surface, which improves solids conveying.
CUSTOM CONFIGURED FOR PERFORMANCE
Magnum can be custom configured to obtain the most effective performance for each application. Balancing screen life, capacity and blinding (plugging) resistance, Magnum screens can be tailored to meet the objectives of the specific operation.
Available in Round or Rectangular screens and linear (Magnum L) or diamond (Magnum D) patterns.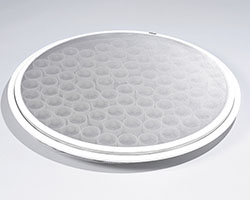 Self-Cleaning Screens
SWECO Sandwich Screens are comprised of a working mesh on top of the tension ring, and a coarser mesh (support screen) is attached to the bottom of the ring with sliders and balls placed in-between creating a sandwich screen. The sliders and balls will bounce off of the support screen and tap the top screen, dislodging near size particles or fibers that tend to blind the screen and reduce screening area.
SYNTHETIC MESHES AVAILABLE
These self cleaning screens can be provided with all grades of stainless, nylon and polyester meshes. SWECO also manufactures a premier lightweight sandwich screens that feature synthetic meshes for your working screen and support screen. The characteristics of synthetic meshes aid in the deblinding process compared to stainless steel mesh. All sandwich screens, including the synthetic meshes can be equipped with our Magnum technology. Sizes range from 18" - 72" diameter screens.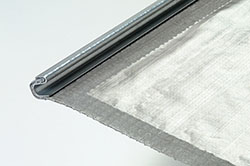 Hook Strip Screens
Hook Screens may feature a single layer of mesh or a double layer, where a coarse mesh serves as a backup to a finer top mesh, adding strength. A triple or sandwich type layered screen is also offered for specialized applications. Plastic reinforcing is used in multiple layered screens when it will contribute to screen life.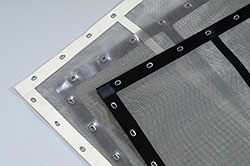 Grommet Screens
Grommet Sifter Screens will fit virtually any type of rectangular or box style gyratory sifter. They come in various sizes, shapes and materials with a wide range of mesh sizes and cloth types.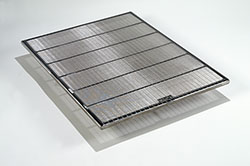 Rectangular Screens
In addition to round screens, Supertaut Plus mounting is also available for Rectangular screens. Using a patented pneumatic sealing system, pre-tensioned Supertaut Plus screens can be installed by an operator in just minutes. This unique system also eliminates the bypass of solids at the screen edge, insuring "zero-bypass".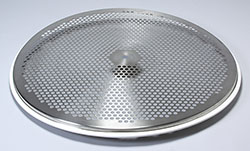 Perforated Plate Screens
Perforated plates are used in conjunction with sliders and/or balls to dislodge near-size particles or fibers and improve screening efficiency. Additionally, perf plates can be used directly in the screening process as the screen itself. There are several applications where a perf plate is preferred over a woven mesh screen to avoid the vertical bouncing effect that is typical from such screens, and the life of a perf plate is much greater than that of a wire or cloth mesh screen.
QUIET CLEAN - REDUCES NOISE LEVELS
The Quiet Clean multi-laminate perforated plate is an excellent method of controlling excess noise. Compared to standard metal perforated plate designs, it reduces noise levels by 14 dba (that's 3 times quieter to the human ear). The Quiet Clean is FDA Approved for food and pharmaceutical products and it is available in sizes up through 48 inch.