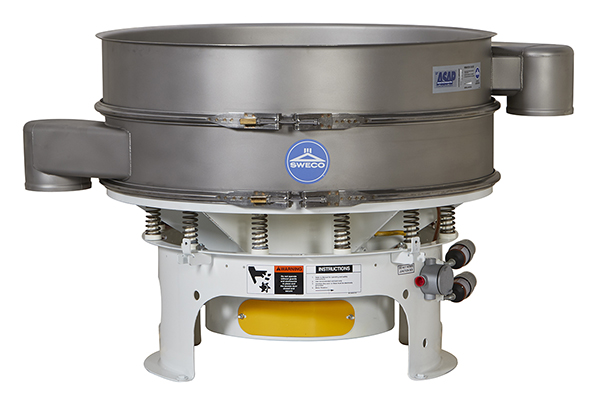 VIBRO-ENERGY ROUND SEPARATORS
Behind each Vibro-Energy Round Separator is the SWECO legacy, synonymous with top quality equipment, innovative design, and exacting standards. Since 1942 when SWECO patented the first vibratory separator to today's high yield HX™ Series Vibro-Energy Round Separators, SWECO has continued our tradition of solutions and service.
HX™ SERIES ROUND SEPARATORS
The SWECO HX Series Round Separator improves technology and performance while increasing safety and simplifying clean-up and maintenance. New features of the HX Series include…
ProGlide™ Linear Weight System
The ProGlide™ is a new top and bottom "no-tools" weight system, which presents fine proportional motion adjustment. The weights are equivalent and easy to adjust as there is only one weight to move. The single weight is moved radially to dial in on the optimal horizontal and vertical amplitude and force to improve each separator's efficiency and throughput.
Lower Weight Guard
The new HX features a new lower weight guard to enclose the motor and lower weight assembly. The guard reduces the risk of reach-in injuries while complying with CE Standards. The new guard can be easily removed without disassembling the drive.
What it does…
Separate solids from liquids or segregate dry materials into various sizes. Particles as fine as 400 mesh (37 microns) can be screened, with up to 4 screen decks incorporated in one SWECO separator. No special flooring or foundation is needed and less working floorspace is required. Simple and efficient design requires less horsepower. Other features include long screen life and ease with which screens may be changed.
How it works…
Basically, the SWECO Separator is a vibratory screening device that vibrates about its center of mass. Vibration is accomplished by eccentric weights on the upper and lower ends of the motion-generator shaft. Rotation of the top weight creates vibration in the horizontal plane, which causes material to move across the screen cloth to the periphery. The lower weight acts to tilt the machine, causing vibration in the vertical and tangential planes. The angle of lead given the lower weight with relation to the upper weight provides variable control of the spiral screening pattern. Speed and spiral pattern of material travel over the screen cloth can be set by the operator for maximum throughput and screening efficiency of any screenable product … wet or dry … heavy or light … coarse or fine … hot or cold.
Additional Information