AVALANCHE SEPARATORS
The dual screen design of the Avalanche separator effectively increases active screen area by up to 67%. The design is simple: a standard diameter frame is modified to accommodate a standard screen on the bottom with an additional, slightly smaller screen above.
Avalanche Flow-Thru Separator
For maximum capacity in a round separator, choose the SWECO Avalanche™ Flow-Thru. Designed to handle large volumes of both oversize and undersize fractions, the Avalanche Flow-Thru provides up to 67% more active screen area than standard units. Discharge capacity is also increased to more than 10 times conventional round separators.
Additional Information
Other Round Separators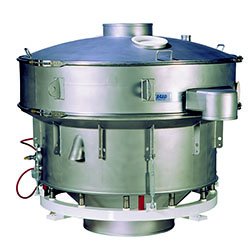 Avalanche Flow Thru