ULTRASONIC SEPARATORS
Sono-Energy Round Separators
The SWECO Sono-Energy™ System allows separations of light bulk density powders previously thought impossible. The Sono-Energy creates a secondary ultrasonic vibration that prevents blinding on fine meshes (60-635 mesh). Numerous applications exist for epoxy powder, toner powder and powder paints. Sono-Energy also works well on heavy density powdered metals, including lead, nickel and chromium, by preventing lodging on near-size particles; therefore reducing blinding, and prolonging screen life.
Sono-Wave Round Separators
The Sono-Wave fully digital ultrasonic system promotes improved screen excitation throughout the screen surface with more even energy distribution and also features adjustable amplitude and frequency sweep. Sono-Wave Ultrasonics Round Vibratory Separation EquipmentThe generator is available in 100w and 200w versions and can drive two screens simultaneously eliminating the need to use a second generator in two deck applications. The ultrasonic converter mounts outside of the separator. With no cable or electrical components inside the separator, the unit can be configured to meet Atex Zone 20 standards.
Additional Information
Other Round Separators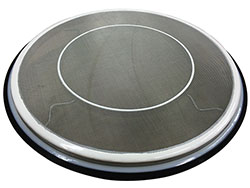 SONO-WAVE TECHNOLOGY