CENTRIFUGAL SIFTERS
An unmatched combination of features makes the SWECO Centrifugal Sifter the finest of its kind. The unique SWECO Pre-Screen (optional) allows more material to be screened with fewer fines in the oversize, which will increase productivity and efficiency, and ultimately optimize the profits of any processing system. SWECO offers two different models with 3.5 ft² and 6 ft² of screen area.
Additional Information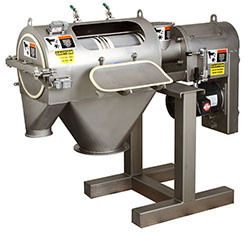 CENTRIFUGAL SIFTERS
STA-SIEVE STATIONARY SCREENERS
Provides quick and efficient separation of solids from liquid. Ideally suited for processors that use large quantities of water. Advantages of this low-cost unit include high-flow rate, long screen life and no moving parts. Can be operated independently or as a system component in conjunction with SWECO Separators or Centrifugal Screen Concentrators.
Additional Information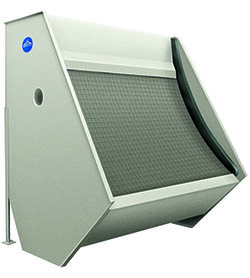 STA-SIEVES
TURBO-SCREEN AIR CLASSIFIER
SWECO's Turbo-Screen Air Classifier provides continuous, precise screening of dry materials, especially in the finer particle sizes. Uses screen sizes from 200-400 mesh for efficient separation of particles ranging from 850-70 microns. Handles the most difficult materials, including electrostatic materials and particles that tend to agglomerate easily.
Additional Information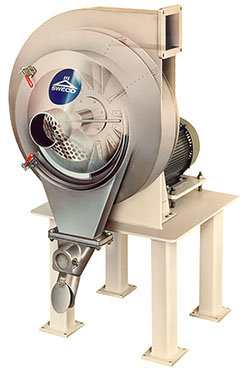 TURBO-SCREENS
WHITE WATER FILTER
Provides high flow rate, fine mesh centrifugal screening to remove all particles larger than screen mesh opening with no dependence on differences in specific gravity. Ideal for effluent and water recycle streams for large plants. Units available that remove suspended solids down to 500 mesh (25 microns).
White Water Filter Magnum Screens The Magnum™ Screen is the most exciting advancement in screen technology in the last decade. A patented technology, Magnum is engineered to enhance screen life and keep your White Water Filter running longer with fewer screen failures. Field testing on White Water applications has shown screen life improvements of 2 to 3 times traditional screen designs.
Reduced Downtime, Lower Maintenance Costs, and More… Increased screen life and reliability results in savings. Reduced downtime, lower maintenance costs, less product loss, rework and inspection are just a few of the ways Magnum saves White Water Filter users.
SWECO Magnum - you can't afford not to try it.
Additional Information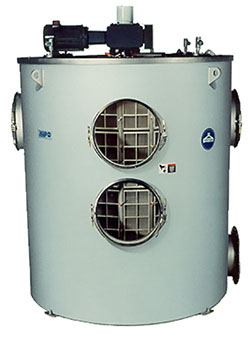 WHITE WATER FILTERS
HYDROCYCLONE & PACKED VESSELS
SWECO Hydrocyclone Systems provide an economical and effective method for removing solid particles in the 4 to 100+ micron range from various slurries. Hydrocyclones typically make finer separations than are practical with screening separators and at significantly higher capacities. In many applications cyclones can be used in place of decanter centrifuges, providing the desired result at lower cost.
Open-Manifold and Packed Vessel Configurations Hydrocyclones are supplied in either an open-manifold or a Packed-Vessel configuration. Manifolds (radial or linear orientation) utilize 2-, 4-, 5-, or 10-inch diameter cyclones while Packed Vessels contain either 1- or 2-inch diameter cyclones. Both configurations can process feed rates from 10 to 3,000 gallons per minute, depending on the size and number of hydrocyclones installed in the system.
Remove Particles Larger Than 10 Microns Tough emissions regulations set forth by the IMO make exhaust gas scrubbers very important to both new build ships and retrofits. In addition to sulfur reduction, these regulations regulate the turbidity and hydrocarbon content of seawater returned to the oceans. SWECO Packed Vessel Hydrocyclone Systems remove most particles larger than 10 microns, and help reduce the hydrocarbon content. The use of hydrocyclones can lower the capital, operating and maintenance costs of a solids-separation system.
Additional Information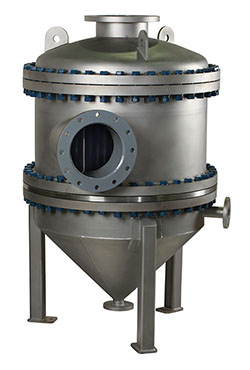 PACKED VESSELS